Top 5 Most Popular Hunting Knives Used In Australia
Hunting Australia is a joy unparalleled to almost any country and a big part of the hunt is your hunting knife. When it comes to this sport and profession, professional knives specifically designed for it are one of the most essential tools out of all the pig hunting supplies there are.
The quality and reliability of any hunting knife is a major asset. It's good to be familiar with some of the most iconic hunting knives used in Australia and worldwide by boar hunters.
Here we present to you these 5 great pig hunting knives, and then throughout this post, we link out to our knives on the JSE shop, and then our wild game harvesting category that features many more top knife options available currently here at JS Enterprises.
Here are the top 5 most popular hunting knives known both for their appeal and use:
---
1. F. DICK Boning and Sticking Knives
F. Dick is the only knife manufacturer worldwide that offers a complete range of knives for boar hunters (and all types of hunters), butchers, and chefs too. Their knives are very much respected throughout the world across these multiple industries. Whether you're a hunter or the head chef at a restaurant, chances are you know about F. Dick Knives.
Here's an F. Dick Skinning Knife from the shop:

Friedr. Dick is a German-based knife company that have been around since 1778! Now you see why they've made such a name for themselves in all that time. Their unique factor to their hunting knives (and all their knives) is that they are all made exclusively from high-alloy stainless steel.
F.DICK Knives are second to none when it comes to quality and reliability.
View our full range of F. Dick Knives Here

---
2. Tramontina 6 Inch Straight Boning Knife
Made of superior quality stainless steel, the Tramontina boning knife is made especially for those seeking high-performance specialty knives. The blades of the knife have been designed in a way as to discourage potential bacterial or fungal infestation.
Here's the Tramontina 6" Boning Knife: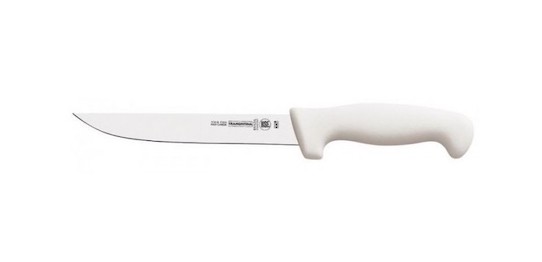 Consequently, your knife stays clean for a long time and is therefore extremely hygienic.
---
3. Eicker 6 Inch Boning Knife with Sheath
To facilitate fluent operation, the Eicker Boning Knife is designed in a way as to enable smooth handling and easy maintenance.
Fitted with a firehose sheath, the knife is one of the most sought-after in the market both for its durability and longevity.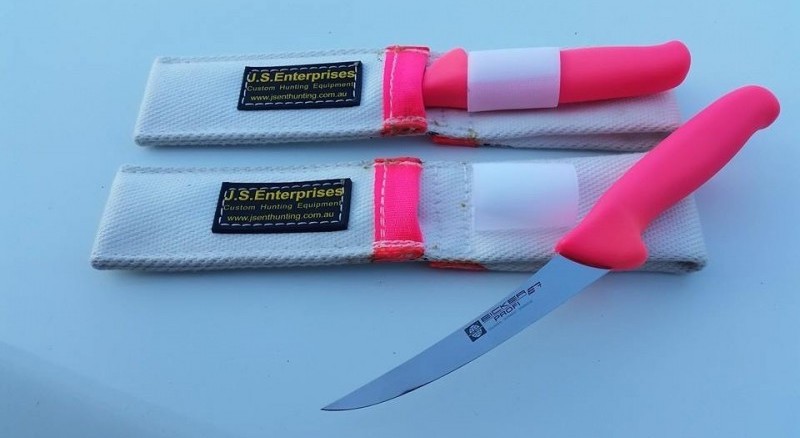 Besides, its tough and highly resistant nature allows you to operate it smoothly and effectively.
---
4. Puma Pig Sticker 381 mm 
Puma are known for their great quality knives at just as great prices.
This 381mm Puma Pig Sticker is one of the most popular hunting knives currently doing the rounds.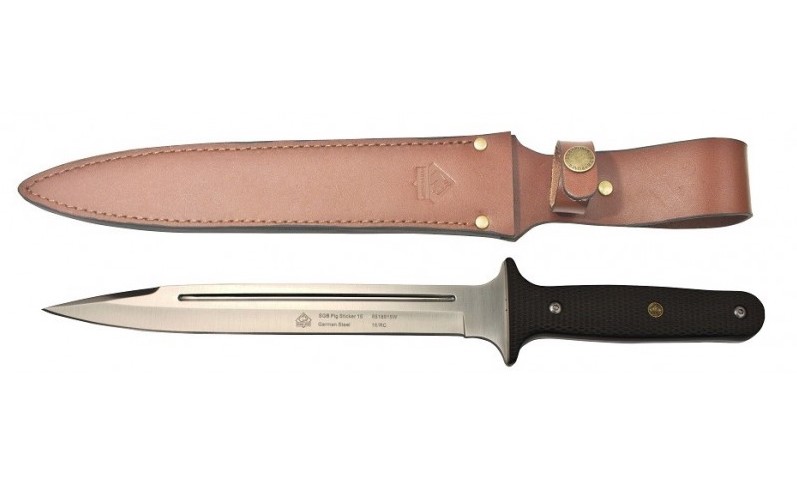 Made of high-quality German steel and fitted with a textured pakkawood handle, it is one of the few knives that are known for its toughness and durability.
Want to view the featured image knife set at the top of this article? --> It's the Puma 3-Piece White Bone Knife Set With Leather Sheath.
---
5. Nieto Pig Sticker 20 CM
Widely copied but never equaled, the Nieto Pig Sticker is the original dogger's knife and still the best. Developed exclusively for Aussie hunters in conjunction with Nieto"s custom knife smiths as a dedicated pig hunting knife, the razor-sharp Nieto Pig Sticker is especially valued for its 4mm 440 stainless full tang blade with triple-riveted scales.

These features make it an extremely sturdy knife, they give it a tough design, and they make it known for its unparalleled ability to work smoothly during intensive action. The double handguard design along with the exquisite drop point makes the knife what it is. The Nieto Pig Sticker is available Red Stamina Wood, Pink Micarta and Black Micarta.
A well-fitting and sturdy genuine leather sheath rounds out the whole package nicely.
View our full range of Nieto Pig Sticker Knives here!
---
We have many premium hunting knives on JS Enterprises.
View our knives in the Wild Game Harvesting Equipment category on the shop.