With 26 years of industry experience, JS Enterprises understand the need for high-quality gear and product assurance. We know just how important location is when it comes to hunting. Losing your GPS can be a costly mistake that sets you behind, Hence why we stock, promote and back the best 4wd and ATV mounts on the market. RAM MOUNTS Keep your Garmin devices 100% secure.
Problems Posed by Other Mounts (mounts not made by RAM)
When left with crudely assembled designs, users can often find themselves at a loss with lower quality mounts. Less flexible joints, weak connections and poor mounting mechanisms can be an inconvenience for hunters when they're out in the Australian wilderness.
If you combine that with limited positioning options, then your hunting experience quickly descends into an unpleasant experience that's full of headaches and risk to your expensive GPS device.
---
What Sets RAM GPS Mounts Above the Rest?
After extensive market research and evaluation, we have found that the RAM GPS Mounts give the best security for your GPS mounting. Not only do they support your device with unparalleled security against becoming unstable or dislodged from the mounting position, but each Ram Mount is also designed to seamlessly blend with the rest of your gear.

Manufactured with convenience and maneuverability in mind, RAM Mount holsters will allow you to position your GPS at any angle required to give you the best view of the GPS screen. Every RAM Mount GPS holder is a high quality, tough, durable design, which will hold its position, in all conditions from highway to rough terrain.

RAM Mounts have a holder for every occasion and a style for every hunter. However, with such a vast selection, finding the right product can be a challenge. That's why we have put together a list of the best RAM GPS Mounts for your Garmin Alpha and Garmin Astro systems. In no particular order, here are the top GPS holsters available from JS Enterprises.
---
The Best 4WD RAM GPS Mounts For Your Garmin Tracking System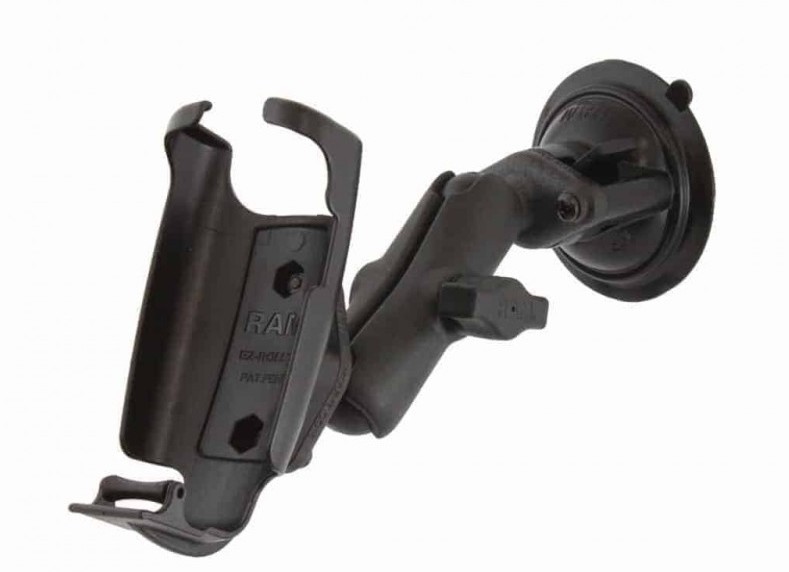 RAM Mount Twist Lock Windscreen Suction Cup Double Ball Mount
Our Ram Mount windscreen suction mounting systems, we offer with different GPS attachments for Garmin Alpha 100, Astro 320, Astro 430 are available with Astro cradle or slide mount.
This RAM Mount Windscreen suction mount offers next level, premium device security and is designed for the Astro 430 and 320. The wide-base suction cup used on this mount possesses an immense grip, you could say it almost fuses to the glass (and other non-porous surfaces) creating an attachment you can be confident in with keeping your GPS sturdy and holds its position, making it the perfect mounting system for on and off-road use, regardless of even the roughest terrain you are hunting in.

The arm can be tilted at an angle of 160-degrees and the rounded head is capable of 360-degree rotation, this means you can find the perfect viewing position without fear of breaking the RAM Mount.
This holster consists of a 3.3'' diameter suction cup with a twist lock base. It also comes as standard with a double-length socket arm and an innovative diamond base. The design also includes a RAM 1'' ball and socket system with adjustment options on both ends of the arm. With such flexibility, it's no wonder the mount can achieve infinite choice viewing angles. Robust and interchangeable, this expertly moulded mounting system is perfect for keeping your GPS protected, making it the most effective tool in your arsenal.

The Alpha 100 RAM Mount Cradle windscreen suction mount is used by countless numbers of hunters as their primary mounting system for their Alpha 100 navigation GPS tracking device.
---
The Best Garmin ATV & Quad RAM GPS Mounts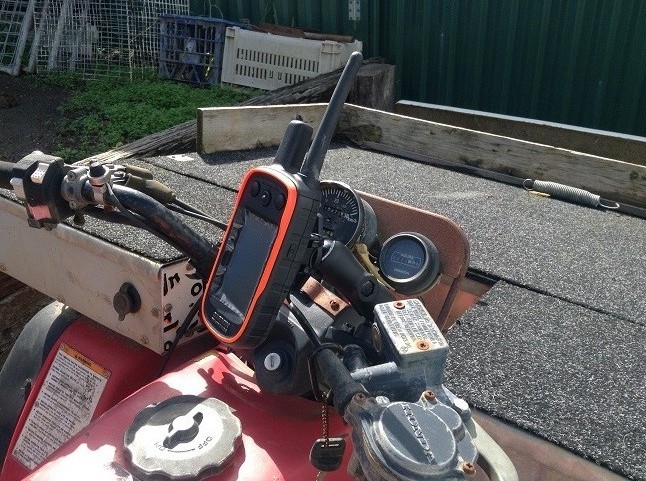 RAM Handlebar U-Bolt Double Ball Mount
RAM Mount Alpha 100, Astro 430 / 320 Handlebar U Bolt Mounts are available with Alpha 100 Cradle or the ATV Slide Mount.

The Alpha & Astro RAMMOUNT ATV & Quad Bike Mounts have been built around RAM's highly effective ball socket system.
The medium length B size RAM double socket arm, and diamond adapter ball base has dual adjustment points placed at each end of the double socket arm, providing limitless viewing angles and seamless positioning on your ATV. or quad bike. This has made this mount a convenient tool for hunters.

RAM GPS Mounts utilized a U-bolt base for this particular mount, using the subtle yet firm fixture to keep your GPS secure, even when you're taking on rough terrain. The medium-length double socket arm is made of powder coated, marine grade aluminum for durability and reliability in the most demanding environments.

The RAMMOUNT ATV & Quad Bike Mounts have a zinc-coated U-bolt base which accommodates rails from .5" to 1.25" in diameter.
---
Limited Lifetime Warranty On RAM Mounts from JS Enterprises
Not only are RAM Mounts fostering safety for your expensive GPS devices, but also protecting your bank account. For those who push their mounts to the extreme, RAM Mounts come complete with a limited lifetime warranty. So now you can test the durability of your mount, without worrying about breaking the bank in the process.
---
Trusted Industry Names
At JS Enterprises, we have over 26 years of experience in the hunting domain and have been knee-deep in the Australian Wildlife ourselves. It was here that we discovered a lack of trustworthy, easily available hunting equipment.

Rather than remain compliant with the poor chain of supply, we founded JS Enterprises and decided to change the game. We launched as a small, local company and quickly grew into a titan of Australian hunting. Today JS Enterprises has a huge customer base and we ship hunting products worldwide.

They offer unparalleled customer service and if you have any concerns, queries or questions about the hunting gear they supply, their expert staff are always on hand to provide friendly assistance.
---
RAM Mounts Blazing Trails
Ram Mounts are blazing trails in the world of device security. Employing the use of intelligent design and impeccable manufacturing, they have brought a new wave of GPS mounts to the market.

The patented ball and socket system has bolstered the effectiveness of their mounts and have given hunters peace of mind when it comes to their vital navigation tools.
Browse our full and extensive collection of GPS Mounts available on the shop to learn more. And feel free anytime to reach out and ask us any questions you have about them. We're always happy to help!
---
Thanks for visiting the JS Enterprises blog.
Next Hunting Gear Article on JSE: Top 10 Garmin GPS Tracking Accessories