We've been looking at the most popular, useful and best Garmin Accessories that give our customers better value, and better hunting experience.
JS Enterprises has 26 years of hunting industry experience, knows exactly what the customers favourite products are and can help you make the best decision before you buy.
In fact, this article is not just about the best products, it also provides information that helps you track and hunt more safely, more efficiently and protect your gear from loss or damage. Check out these top ten Garmin accessories.
---
1. Alpha 100 Iron Screen Guard LCD Screen Protector
As you know, when you're out hunting and tracking valuable equipment always gets damaged at the worst possible moment. Just like your mobile phone, it costs dearly when you damage your screen.
To prevent this happening, the Alpha 100 Iron Screen Guard is an in-expensive item to insure against damage to your high-value tracking equipment.
---
2. Alpha 100 Silicone Protection Cover-standard, glow in dark and super glow
If you're out hunting at night with your Garmin Alpha 100 + collar combo, this Alpha 100 Silicone Protection Cover that's glow-in-the-dark will save you from losing your tracking device.
Not only will you be able to easily find your device when hunting, but the covers also provide great protection from damage from general wear and tear.
For the best results, we recommend the screen protector and protection cover.
---
3. Long Range Flexible Antennas.
Extend your range and let your dog go further with our Alpha & Astro Garmin GPS Antennas.
Flexible antennas have a variety of benefits especially if you're in a high-density bush.
You can easily attach this antenna to your device and can quickly extend the range and cover a wider area.
Our TUFF SKIN Max Gain Long Range Garmin Collar Antenna is easily one of our most sought after flexible Garmin GPS antennas.
A flexible antenna is great for hunters who are harsh on their gear, these antennas can be put through the roughest treatment and still perform to its full potential.
---
4. Folding Telescopic Long Range Antenna BNC.
This antenna connects to a handpiece via a quick-connect attachment kit allowing you to interchange between antennas quickly and easily.
When folded down the antenna is compact and protected from being caught up in dense bush, when it's extended the telescopic antenna gives the best range for tracking and locating your dogs.
No other antenna that connects directly to the handpiece will outperform the Folding Telescopic 1.2mtr Long range antenna with BNC connection
---
5. Alpha / Astro Rammount Windscreen Suction Mount.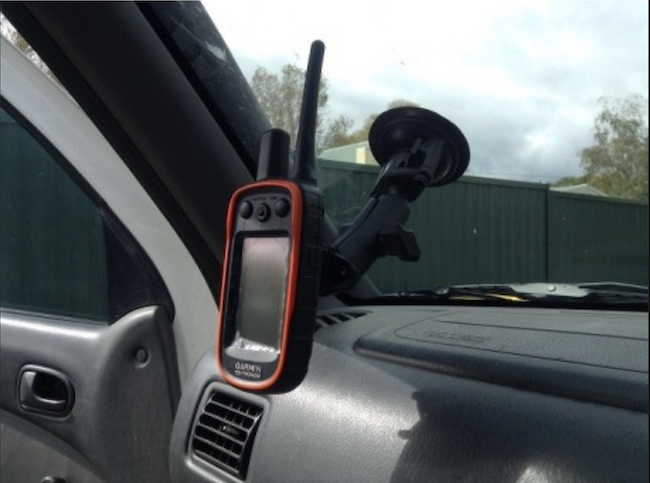 When you are GPS tracking in your vehicle, on many occasions you will need to access the USB jack to your tracking device.
Unlike many other windscreen suction mounts, this popular mount has the advantage of providing USB power access when you need to charge your tracking device or connect an auxiliary antenna to your Alpha or Astro device.
View our Garmin Windscreen Suction Mount at JS Enterprises.
---
6. Alpha / Astro Rammount ATV Quad Bike Mount.
The Ram Quad Bike Mount for Garmin is one of the most versatile and convenient accessories if you're using a quad bike for hunting and tracking. The mount is easily placed in any position you need and gives you a great visual when moving along.
The tracking device slides directly and securely into the mount and is easy to release. This product improves quad bike safety when you're on the move while hunting and tracking.
The quad bike mounts are second to the windscreen suction mounts above as some of the most useful and popular Garmin Accessories.
---
7. GPS Chest Holster-single with accessories compartment
Get the latest gear for keeping your GPS tracking system secure and safe from damage.
The GPS Chest Holster sits high and to the left on your chest, so your GPS gear is protected from anything that could impact and cause damage.
You have the option of a single or dual pocket GPS Holster on the front which allows you to carry and have easy access to your UHF or Remote training system.
There is also a full-size internal pocket which is water-resistant for keys, spare batteries, mobile or other accessories you may want to put in
---
8. BirdsEye Satellite Imagery
Going into unknown locations brings up many logistical challenges due to unknown terrain. The good news is the BirdsEye Satellite Imagery now gives you peace of mind that you can navigate more easily and get to your locations easily.
You can simply download maps that give a birds-eye view, just like Google Earth and see which direction is easiest to travel. This product will save you valuable time in making sure you're not heading for terrain you cannot pass through.
This Genuine Australia and New Zealand Topographical Map microSD/SD Card comes highly recommended.
---
9. Garmin Instinct GPS Watch
This amazing watch has so many features, you will have to get one. Specific to hunting and tracking, you can view direction and distance of where your dog is located. If you're wanting to head back you can use the watch to navigate the same track back to your starting point.
This watch is so multifunctional you can use it for other sports and pair with your smartphone for live tracking. In fact, this watch has so many great features you need to go to our product page to find out more about this amazing must-have Garmin accessory.
---
10. Astro/Alpha Fibreglass Bullbar Antenna
As we mentioned in the Garmin accessory number 5, if you have a windscreen mount that lets you plug a USB cable in like the Rammount Windscreen Suction Mount, you can use the Astro/Alpha Fibreglass Bullbar Antenna to get that extra range and drive hands free as well.
The bullbar antenna gives you greater control of your vehicle while tracking and the only way you can drive hands free using the Astro/Alpha 100.
---
If you need to find out more about any Gamin hunting and GPS accessories simply contact us today.
Our friendly hunting shop staff in Brisbane are waiting for your call or message.
---
Next Post: 5 top features on the Garmin Alpha 100 TT15, a great track and train system for pig dog hunting.